The Lord of the Rings: Aragorn's Quest is an upcoming third-person, action adventure video game developed by Headstrong Games for Wii and TT Fusion for Nintendo DS, PlayStation 2, PlayStation 3 and PlayStation Portable. It is the first
The Lord of the Rings
game to be released by
Warner Bros. Interactive
, who obtained the lease following Electronic Arts's titles.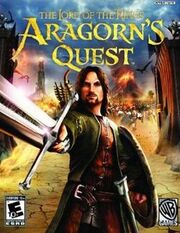 Set following the events of the three books, players guide a young hobbit around The Shire (the hub world), who listens to stories told by Samwise Gamgee about Aragorn. These stories make up the game's levels, with players controlling Aragorn through the events of the three books. Gameplay consists mostly of sword fighting, as well as horse-mounted combat. A second player can drop in, playing as Gandalf.
Development
Edit
The existence of Aragorn's Quest was initially leaked by the Entertainment Software Association in their E3 list of debuting titles. The game was officially announced in a press release a week later, on May 28, 2009, and marks the first title in a new franchise after Warner Bros. Interactive Entertainment obtained the license for the Lord of the Rings series from The Saul Zaentz Company and New Line Cinema after years of the series being licensed to Electronic Arts. The press release noted the game would be available for Wii, Nintendo DS, PlayStation 2 and PSP sometime in fall 2009. In August, the publishers announced the game would be delayed until spring 2010. No reason was given for the delay. On March 10, 2010, the publisher announced the game would also be available for the PlayStation 3 and support the PlayStation Move, a peripheral set to launch in fall 2010. With this announcement also came a further delay, pushing the release date back to fall 2010 for all platforms. Kotaku speculates that the additional support for the PlayStation 3 and PlayStation Move was the cause for the delays.
Ad blocker interference detected!
Wikia is a free-to-use site that makes money from advertising. We have a modified experience for viewers using ad blockers

Wikia is not accessible if you've made further modifications. Remove the custom ad blocker rule(s) and the page will load as expected.