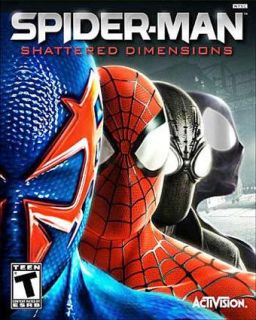 Spider-Man: Shattered Dimensions blends together the many alternate universes of the world-famous webslinger with four unique takes on Spider-Man's history in comics.
A mysterious artifact called the Tablet of Order and Chaos gets shattered into four pieces, creating problems with reality. Madame Webb gathers the Spider Men from several dimensions to collect the pieces of the tablet that are in their dimensions.
The game will feature appearances from characters such as Kraven the Hunter, Noir versions of Hammerhead and the Green Goblin, and 2099 versions of Hobgoblin and the Scorpion.
The player will be able to control four versions of Spider-Man, spanning the Earth-616 (the mainstream universe), Noir (Earth-7207) Marvel 2099 (Earth-928) universes and the Ultimate Spiderman.
Characters
Edit
Playable Characters
Edit
Amazing Spider-Man of Earth-616
Spider-Man Noir of Earth-7207
Spider-Man 2099 of Earth-928
Ultimate Spiderman
The Goblin of Earth-7207
Hammerhead of Earth-7207
Hobgoblin of Earth-928
Kraven the Hunter of Earth-616
Scorpion of Earth-928
Alternate costumes
Edit
Cosmic Spider-Man (in Gamestop only, for all dimensions - Playstation 3 and Xbox 360 exclusive)
Iron Spider-Man (in Amazon only, for 2099 only - all consoles)
Ad blocker interference detected!
Wikia is a free-to-use site that makes money from advertising. We have a modified experience for viewers using ad blockers

Wikia is not accessible if you've made further modifications. Remove the custom ad blocker rule(s) and the page will load as expected.