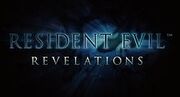 Resident Evil: Revelations, known as
Biohazard: Revelations
in Japan, is an upcoming video game announced by Capcom for the Nintendo 3DS at E3 2010. The game uses the internally developed MT Framework engine also utilized in
Resident Evil 5
, and, according to Keiji Inafune, will be a completely original entry in the series. The real-time trailer that was released showed Chris Redfield and Jill Valentine talking to an unidentified prisoner on a large ship.
Ad blocker interference detected!
Wikia is a free-to-use site that makes money from advertising. We have a modified experience for viewers using ad blockers

Wikia is not accessible if you've made further modifications. Remove the custom ad blocker rule(s) and the page will load as expected.