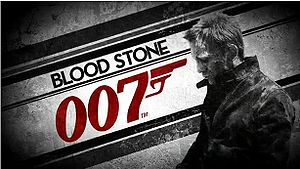 Blood Stone is an upcoming action-adventure video game, developed by Bizarre Creations and published by Activision for the Xbox 360, PlayStation 3, Nintendo DS, and Microsoft Windows operating systems. It is the 23rd game in the James Bond series although it is not a direct sequel to any game. The game was confirmed by Activision on July 16, 2010. The game is expected to be released in the fourth quarter of 2010.
The game is a third-person shooter with elements of hand-to-hand combat. Blood Stone features a unique Focus Aim system which allows players to lock onto targets after melee takedowns. There is also a multiplayer mode consisting of up to 16 players that will pit spies versus mercenaries.thumb|300px|right
The player assumes the role of the protagonist James Bond (voiced by Daniel Craig) who teams up with a wealthy socialite Nicole Hunter (voiced by Joss Stone) to find a researcher who is feared dead. Set across four locations: Athens, Istanbul, Monaco and Bangkok, Bond fights the antagonists, a group of terrorists led by a man named Greco.
Development
Edit
The game was first hinted on April 21, 2010 when British store HMV listed Blood Stone as coming soon. Then on April 23, Activision reserved a web domain name called www.bloodstone.com. The game was officially announced in an Activision press release on July 16.
Famed James Bond film writer Bruce Feirstein was chosen to pen the story for the game.
The game itself is built on developer Bizarre Creations' bespoke engine, which was first created for the game "The Club".
Ben Cook, who is Daniel Craig's stunt double in the films, has provided the motion capture choreography for Bond's digital animation. He is credited as the game's Stunt Coordinator.
The soundtrack is composed by British composer Richard Jacques. Joss Stone provides an original musical track to the game titled, "I'll Take It All" written and performed by her and Dave Stewart of the Eurythmics. The song will be featured exclusively in the game.
External Links
Edit
Ad blocker interference detected!
Wikia is a free-to-use site that makes money from advertising. We have a modified experience for viewers using ad blockers

Wikia is not accessible if you've made further modifications. Remove the custom ad blocker rule(s) and the page will load as expected.