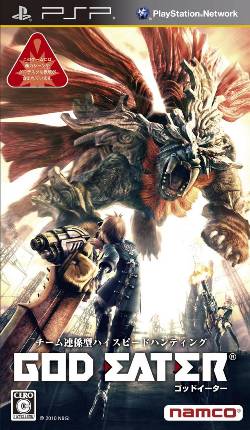 God Eater, is a 2010 action-adventure video game exclusively for the PlayStation Portable developed and published by Namco Bandai Games in Japan and published by D3 Publisher, a subsidiary of Namco Bandai Games, in North America. The game was released in Japan on February 4, 2010 but will not be released anywhere else. Instead, the updated game God Eater Burst will be released in North America in 2011. The opening and ending theme songs for the game are "Over the Clouds" and "My Life", both of which are sung by Alan.
The game's gameplay has been noted as extremely similar to the gameplay of Capcom's Monster Hunter series of video games, however unlike the Monster Hunter series the game possesses a large storyline which can be experienced fully with names and voice actors in single-player mode. Players play as a young warrior who has decided to go up against a powerful yet mysterious creature called Aragami; Warriors who go up against this creature are given the name God Eater. The game boasts a mission-based single-player mode consisting of more than 100 missions inclusive of co-operative play with up to three teammates over local adhoc wireless multiplayer or AI-controlled teammates. The North American version of the game will also support the PlayStation 3's adhoc Party. The game also features character creation allowing customization of hair style, hair color, face, skin, clothing, voice as well as weapons using special materials. Equipment are divided into three groups: Blade, Gun, and Shield, and each group have 3 different subgroups. Weapons can be switched easily and instantly between melee and ranged.
Development
Edit
The game was first announced on July 9, 2009 by Namco Bandai Games. Shortly after the game's Japanese release a North American release was announced by a subsidiary of Namco Bandai, D3 Publisher, for a Q3 2010 release. However, D3 has now decided to localize God Eater Burst instead at the beginning of 2011.
Ad blocker interference detected!
Wikia is a free-to-use site that makes money from advertising. We have a modified experience for viewers using ad blockers

Wikia is not accessible if you've made further modifications. Remove the custom ad blocker rule(s) and the page will load as expected.