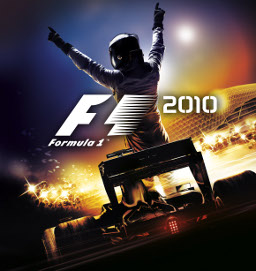 F1 2010 is an upcoming video game based on the 2010 season of the Formula One motor racing series. It is the sequel to the 2009 video game based on the same series. It will be released in September 2010 on the Xbox 360, PlayStation 3 and Microsoft Windows platforms. The game was confirmed by Codemasters on 23 April 2009. The game engine is based on the Ego Engine that Codemasters used on both the Colin McRae: Dirt and Race Driver: GRID games.
Development Features
Edit
F1 2010 will feature "the most complicated weather system ever seen in a racing game" which is integral to F1. When rain starts to fall, the track will gradually lose grip, with some areas losing grip faster than others. "Overhanging trees, for example, will shelter the track, while dips and indentations in the tarmac will hold more standing water and provide a greater risk."
When the rain stops, a "drying line" will start to appear which will provide more grip which will make it easier to drive. If a car strays from the dry line, the tyres will lose grip and it will be harder to drive. Evolving track will also be featured elsewhere in the game; at the start of a race weekend, the track will be "green" and therefore have less grip, but as the weekend progresses, rubber will be laid down onto the track, increasing the grip.
The game will feature a career mode consisting of either 3, 5 or 7 seasons (depending on the end user's choice). Where players can drive for any team, each having their own objectives – "For example, race for Ferrari and anything other than winning the Driver's and Constructor's Championship would be a failure, while a mere points finish when driving for Lotus would be a huge success." Media interest will also differ depending on whether the player is racing for one of the top teams, or a team at the back of the grid. Impromptu interviews will take place alongside the official interviews following each race.
Research will also feature in F1 2010. Consistently out-race their teammate, and the player will receive new parts, updates and upgrades as they are developed. Their team will develop new parts and updates for their car throughout the season, evolving the car as the season progresses.
Teams and Drivers
Edit
F1 2010 will feature all 24 drivers and 12 teams from the 2010 season.
All 19 circuits on the 2010 F1 calendar will be included in the game.