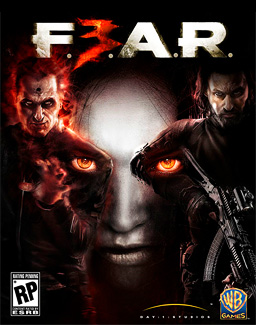 F.E.A.R. 3 (stylized in the logo as F.3.A.R) is an upcoming first-person shooter developed by Day 1 Studios and is produced by Warner Bros. Interactive Entertainment for the PlayStation 3, Xbox 360 and Microsoft Windows as a sequel to the game F.E.A.R. 2: Project Origin and the third installment of F.E.A.R. series. It was announced on April 8 and is stated to include John Carpenter helping on the cinematics as well as writer Steve Niles. In an interview made by Gamespot when asked about Becket, if he is going to appear in F.E.A.R 3, the answer was there are five thing's that can't be told about the upcoming game, and Becket is number three.
F.E.A.R. 3 is to include new features such as co-op, an evolved cover system, and more scares, according to Day 1 Studios founder and president Denny Thorley. In the game the player will be able to control both Point Man and Paxton Fettel, the protagonist and antagonist from the first game, F.E.A.R. The controls for the Point Man are the same, with shooting enemies and slowing time. As Fettel, you assist the Point Man by using telekinesis, stun, possession, and other abilities.
Ad blocker interference detected!
Wikia is a free-to-use site that makes money from advertising. We have a modified experience for viewers using ad blockers

Wikia is not accessible if you've made further modifications. Remove the custom ad blocker rule(s) and the page will load as expected.