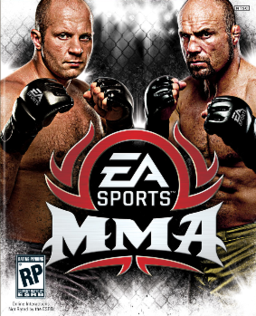 &nbsp
EA Sports MMA (also known as EA MMA) is an upcoming video game which will be published by EA Sports and developed by EA Tiburon in 2010. It will be released for the PlayStation 3 and Xbox 360. At the E3 games convention, EA Sports MMA announced that the game would be released on October 19, 2010 in North America and October 22, 2010 everywhere else.
Game details
Edit
On June 1, 2009, Electronic Arts announced that an all-new fighting title is in development under the EA Sports brand. EA Sports MMA will be available in 2010 on the Xbox 360 and PS3. Its website did not reveal any facts about the gameplay or its release date, just one link to sign up for the EA Sports newsletter and another that directs people to EA Sports' MMA forum.[3] This game will have many options to create the ultimate MMA experience.
It was announced that the first trailer would be shown on CBS, during Strikeforce: Fedor vs. Rogers on November 7, 2009. The trailer featured Emelianenko and Rogers performing a variety of attacks and defenses against each other. The trailer ended with both of the men about to punch each other in the face. It was announced that EA MMA would feature Strikeforce as its flagship promotion.[4]
An article posted on December 15, mentioned the following details:
Deals with other MMA promotions, in addition to the announced Strikeforce deal, are "highly likely, including at least one of the big Japanese groups." FSM says one unannounced top fighter "regularly competes in Sengoku Raiden Championship, aka World Victory Road.
Venues include both rings and cages. FSM says EA's on the fence about whether restarts will be included for ring fights. (It "might make for jarring gameplay," the article says.)
The game includes Pride-style rules in addition to standard Unified Rules.
The game includes the ability to fight southpaw- or orthodox, execute foot stomps and fight on the cage, with deep clinchwork and countering.
Mauro Ranallo and Frank Shamrock will be providing commentary.[5]
Arenas including HP Pavilion at San Jose, Scottrade Center, BankAtlantic Center, Sears Centre, Saitama Super Arena, Yokohama Arena and Osaka-jo Hall
Randy Couture and Fedor Emelianenko will be on the cover.[6]
The game will also feature 'Live Broadcasts' that can be viewed from PC or consoles. The player will be able to upload hype videos, which will help to increase popularity. Real life prizes will be given out to a certain level.[7]Gameplay
Ad blocker interference detected!
Wikia is a free-to-use site that makes money from advertising. We have a modified experience for viewers using ad blockers

Wikia is not accessible if you've made further modifications. Remove the custom ad blocker rule(s) and the page will load as expected.