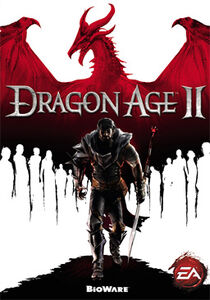 Dragon Age II is the upcoming sequel to BioWare's 2009 role-playing game Dragon Age: Origins. Unlike Dragon Age: Origins, the main character's background, race and voice will be set. The story centralizes around a fully-voiced human character, Hawke, a Lothering refugee who rises to power.Plot
Characters
Edit
Hawke: The protagonist who had escaped from Lothering to become champion of Kirkwall in the Free Marches.
Bethany: Hawke's sister and a mage.
Varric: A dwarf who acts as narrator and has accompanied Hawke on travels.
Cassandra: A chantry seeker that is interested in Hawke. She believes understanding Hawke's actions could be the key to preventing a war that threatens to engulf Thedas.
Flemeth: The notorious Witch of the Wilds.
Marketing
Edit
Trailer will be released August 17, 2010.
Release Dates
Edit
External links
Edit
Ad blocker interference detected!
Wikia is a free-to-use site that makes money from advertising. We have a modified experience for viewers using ad blockers

Wikia is not accessible if you've made further modifications. Remove the custom ad blocker rule(s) and the page will load as expected.