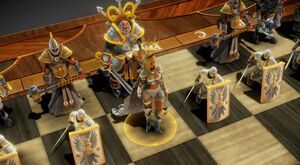 SouthPeak's infringement-skirting Battle vs. Chess has been pushed back from its initial May launch window, according to a press release. And the fact that May's almost over and the game's not out yet. However, the game is now set to launch this Fall, and will be released for 360, PS3, Wii, DS, PSP and PC.
According to the presser, the game will include an "Action Mode," where pieces won't automatically kill one another in scripted animations, but will rather place players in a "beat-'em-up style encounter."
Ad blocker interference detected!
Wikia is a free-to-use site that makes money from advertising. We have a modified experience for viewers using ad blockers

Wikia is not accessible if you've made further modifications. Remove the custom ad blocker rule(s) and the page will load as expected.