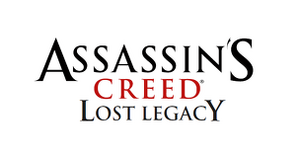 Assassin's Creed: Lost Legacy
is an upcoming video game developed for the Nintendo 3DS. It was first announced during Nintendo's E3 2010 press conference.
The game will feature Ezio Auditore da Firenze as the main protagonist once again. The story will find Ezio traveling east to the Assassins' former city of Masyaf, where he will discover the origins of the Assassin's order, with possible connections to Altaïr's story from the first Assassin's Creed.
Ad blocker interference detected!
Wikia is a free-to-use site that makes money from advertising. We have a modified experience for viewers using ad blockers

Wikia is not accessible if you've made further modifications. Remove the custom ad blocker rule(s) and the page will load as expected.